FRIENDS ver2 part 1
Man, whenever I wrote about my favorite artists, there wouldn't be any comments to it, sad, T_________T.
Right, anyway, I just came back from my enjoyable yet tiring 3 days 2 nights chalet @ Aloha Chalet. My muscles are cramping/aching all over by now, shall explain later, yea.
Flashback on the days spent . . .
XXXXXXXXXXXXXXXXXXXX
Day 1
As usual, I'm late, that luckily somehow my pals manage to coax the shutter bus driver to wait for my arrival,
**sound so grand**.
With me zooming into the bus, we took off and before we knew, we are @ the receptionist, and had to wait for our dear Mark Tan to do some paper work before we can get check-in, and so yea Ruben was kinda starving that he had to dial the Mac-Delivery up, but is sort-Ta weird to just order a meal, and expect them to serve to your door-step, so Soo Chin and I chopped in and order a Double cheese each
**my all time favorite burger!**
Shaz and Alex arrived with Mark Tan, with our food for dinner. And here a big shout out to Shaz 'thanks for the ingredients you'd
**blan-ja**,
that under your mom hands, and
**ta-da**, **si-dat**
cooking!' and of course a big thank to Alex in helping Shaz up for the preparation of dinner =]
Think if I continue to write this way, it'll be darn lengthy, so here goes the
**fast-forward**
. . .
And so, its dinner time, we gather around in a circle, because the table is round,
**k, that lame, =,=**,
what point I'm driving across is that we eat together, with a wok of curry in the middle, so is kind of **family-like** feeling, and man I guess either I'm darn hungry or the food is just so superb that I'd 2 portion of rice! wOOT darn freaking full man, I tell you!!!
There-after some had game of **majong**, others had some gaming over the PS2 that our be-loved Soo Chin had never failed to bring along for all the chalet we had thus far, thx man!
Out of sudden, we realized 2 of our man were MIA- 1 boy & 1gal, wooT!!
Anyway, Ming soon arrived and together with Ruben
.**both wet**,
they suggested let's go for a walk near swimming pool, knowing their
**devious-plan**
obviously, I bring along my HP,
**outwit**
them if you know what I meant, or you latta. Pretty soon, all of us got wet or got dunked into the pool, except me, why, because they'd to pay for the damage of my HP, if my HP is to get damage! Then Ruben asked me to **surrender** the phone, and wana push me down, but but I voluntary said,
'I go down myself'
With a somersault, I'm into the pool **graciously** ,**to get wet, also must pattern-pattern. LOl
Ming suggested
'lets challenge who can hold our breath in the pool longest'
Obviously he got
**train**
, i think and proposed this challenge, he won of-course.
After-which we head back to our bunk and the 2 MIA peps still MIA.
Gooosh!
Soon both return, w/0 much **interrogation** between them, we decided to go for night cycling- an adventure that I never regret though is darn tiring.
After slashing the rental price, we got our bike @ $12 per person for 12 hrs! =]
XXXXXXXXXXXXXXXXXXX
DAY1 approaching Day 2
@ Near mid-night, we set from our chalet to our destination- Changi Village!
Halfway through, the girls had some injuries, with Ruben the only guy with toe injuries, cox of his long legs that is nt proportionate to the bike and Shan the only she-male who survive the trial! Matter was made worst that our commando Alex had lead us the wrong way!?!?
The girls, Hua, Lian, Shan decided to head back, and the tough guys decided to carry on the expedition, so Ruben and Alex waited at 1 of the **pit-stop**, Shaz and I then escorted the girls back, or rather Shan who in-front leading us back, I need to be behind ma, anything happen then can see =/ with shaz guaring lian
Back at the chalet, grasping some drink, we resumed the journey to Alex and Ruben, this time round with Rongs and FAz who had just arrived, and so the 4 of us are back on the track again!
When we reached the pit-stop, those 2 were
**whining**,
that they had waited for an hour, and I was like woOah, time passed so fast meh?
With Faz and Rongs arrived the pit-stop,
**me and shaz reached first**,
we rested and Faz changed his bike with mine, cuz he using this freaking small bicycle that girls were using just now, I tell you, its so darn tiring to cycle on a small bike! So the trade was successful, a tiny bike for my deluxe bike, T___T
Alex was way up-front, with his own posh bike, and me way behind with Ruben, with Faz, Rongs and Shar wayX3 behind. LOl, at the 2nd pit-stop, we waited for like 8mins and didn't see any shadow of Rongs and Faz, called them and they said they heading back! **we were reaching sOON, is like another 10 mins** so the 3 of us reached Changi village soon after, and do think 2 of them had **char-siew mee** @ 4++ a.m. =,=, shaz and I just had ice-milo.
Heading back was easier for me, as commando is willing to take my small bike and I used his posh bike to cycle back, =]
What fun about night cycling is that there ain't many cars and the whole street is like catered for you only, whats more is at Changi is so **wu-lu-wu-lu** = lighter traffic, and when go down slope is so darn shiok, but of course you had to conquer the uphill first! When we reached back, my hair were like standing up, even though is not jel-ed!
DAY 2
Were spent @ Sentosa, zai wei joined us there, think pictures say louder than words, will upload them soon once I received the photos next week?
It rain that day, and were like #@$@%!
Thank God the rain stop soon-after,
We had a human burial of Shaz and Alex, and I initiated to swim across the beach to the other **island**, none of them want, but soon I reached, Alexstair and Ruben soon followed, guess they saw this **guinea pig** had succeeded and is safe that they tag on, LOl, or more like they saw me alone on the island that they come or else is like ps-ing me. And so the 3 of us are opposite of each other separated by the shore, and guess what we were inspired by the movie 'wild hogs', that the 3 pee in the sea together, mind you this is not g@y stunt, this is really buddy-like acts!, gals don understand this! This is just merely for fun or sought of daring, yea. Admit it all of us, guys had at least pee at least once at sea or public pool, ladies I not sure, wait till 1 dare to confess,@___@
After wash-up had dinner @ food republic and chilled up at Ben & Jelly
The night was still young and we didn't know what to do that we took a super-duper long cut back chalet, we took bus all the way from harbour front to tampines then take bus back to pasir ris then from there take bus to down-town! woOt , my longest sprees on bus thus far!
**can't wait for the photos**
XXXXXXX
Day 3
Today is spend on more of cleaning up, and breakfast were settled at Ya-Kun, and then home sweet home. Do think that those guys still had the energy to go clubbing tonight, and I had to spend my evening at some TP band concert, friend ask to support ma, and more-ever is more budgeted wise!
Yet to upload those photos taken, next week when shan passed to me,
this is already a fast-forward mode and is still so lenghty =,=
yawn~ muscle cramp cramp,
**acting cute**, or goin nuts from isomia
Till then
Take care
kai
wish to have a night cycle with my dream gal on a double-seated bike =]
ciao~
XXXXXXXXXXXXXXXXXXXXXXXXXXXXXXXXXXXXXXXXX
7th aprIL


FRIENDS ver2 part 2
DAY 1 @ chalet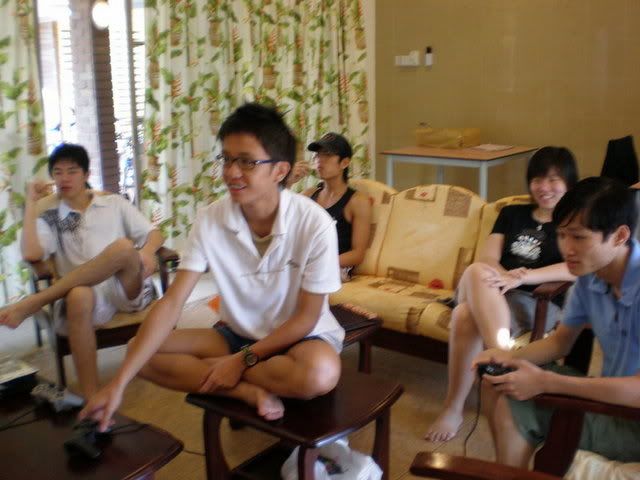 Look how focus sc is with his controller, and me dumping the controller aside (being 'defeated' I guess,=/) , but I soon get the hang of the racing game and win back a few rounds =] ruben and alex seem to be erM, and shan look amused for some
reasons . . .
DAY 2 @ Sentosa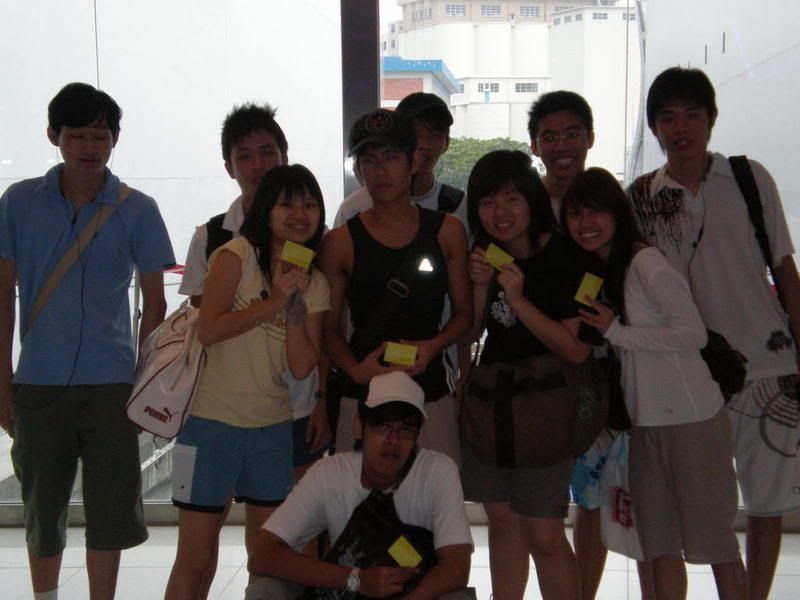 Before leaving for Sentosa,we had a photo session, look some of them are flashing those SenTo-EZ-link-cards (I was actually the 1 suggested this pose, but ruben was saying no no, 'childish' and thus yea I did not flash it, was surprise that some actually did flash those cards =')
2 wanderers trying to figure their way out
**you don need a map here in Singapore, I mean you won't get lost in this tiny whiny island**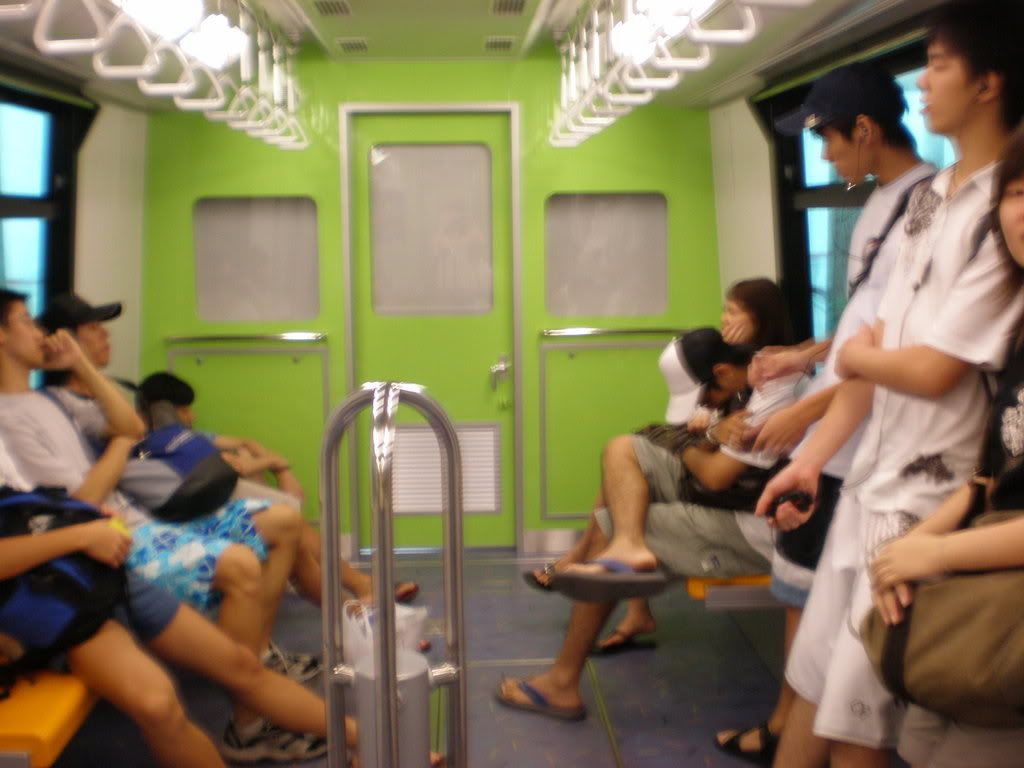 All seems pretty shag when heading to Sentosa via metro, was tt sc on the floor? Is Lian slapping her own face? Stair seems to be figuring out something… ruben and zw drown in their music
Nothing can be worst then this right God?
@ Sentosa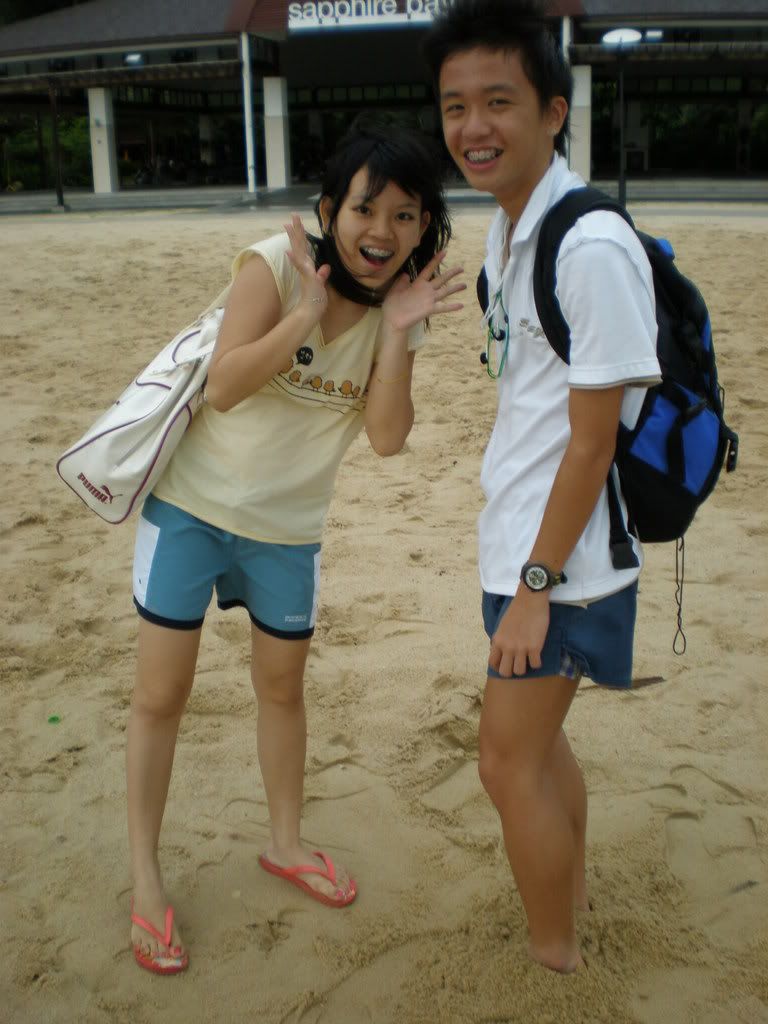 Hua seems to be saying 'ta-da, I had your feet buried', u see I was dipping my foot on the sand while I walk and so yea…
and gessh I'm hunching like a old man!!! zzzzz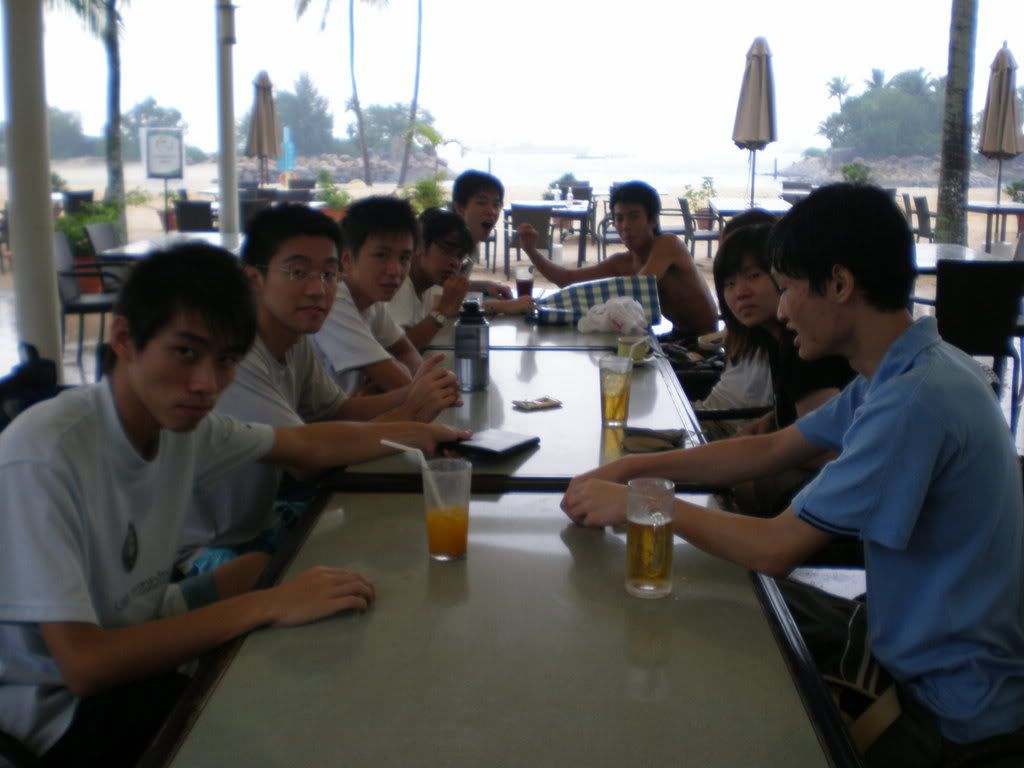 our shelter for the day, background, commando flexing his muscle with his fist that ruben long to gobble up!(closer look he's actually poking a straw into his mouth @__@) cant figure what on shaz's hand. .. stair with his sleepy eyes, @_@ zw , apparently wanted to check up on the menu, but freeze at tt moment for a pose!
I see a combination of Lian's body + shan's head = ?_?. and sc, you drinking beer in rainy day? That double cold =,=. Where hua, think she e photographer
Our masterpiece! Let us be more artistic then thinking dirty yea? (never released photo, limited edition, grab it when its hot in the oven!!)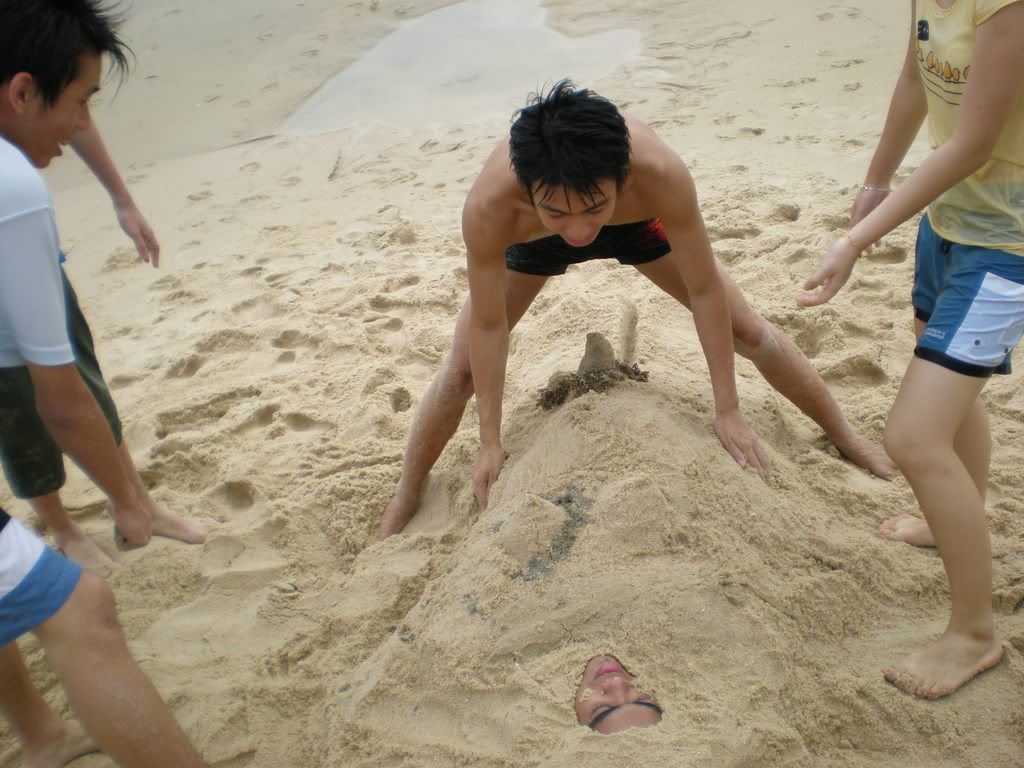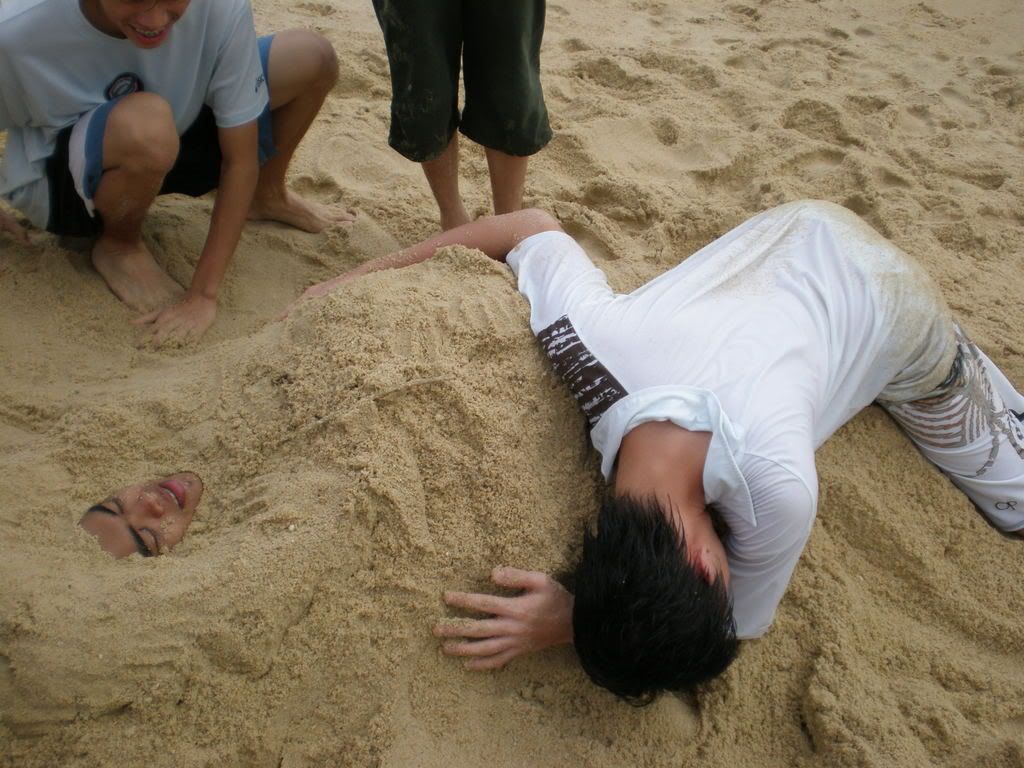 Duo-some!!!! Censored!!! (children under 12 shouldn't try these stunts elsewhere, 1 require strict discipline and skill to perform that, k, tt's
L_A_M_E =,=)
wash-up and head for viVo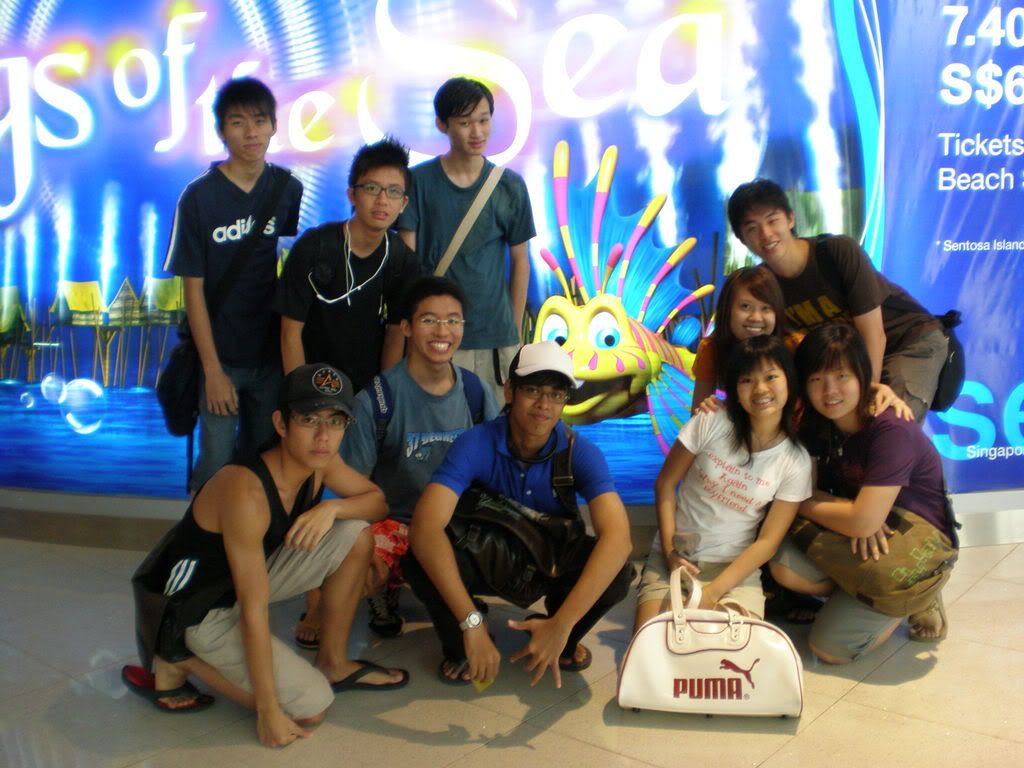 pose for the Day!!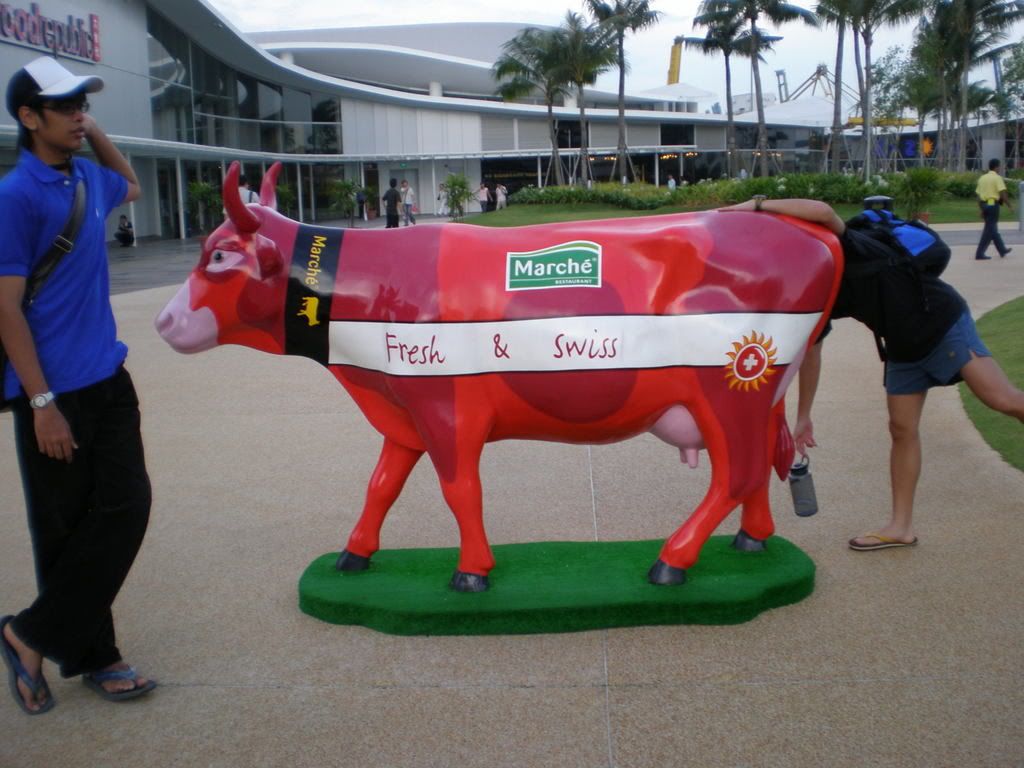 You don't wana know what inside! (always wanted to do this kind of weird pose, and finally yea, got to do it that day =]])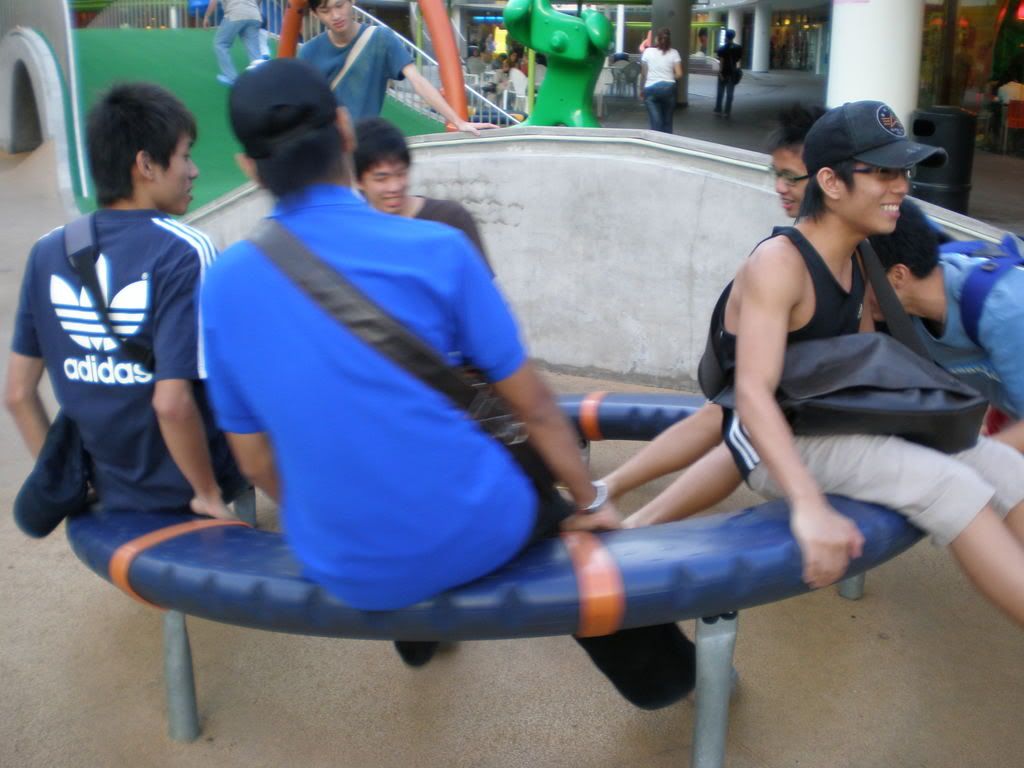 more photos @
Now that's what I called fun-izzy @__@
ciao~