POP sooon lor!
3 more days to POP lo! ! !
Tuesday the big day; the last hurdle of BMTC- 24km road march, followed by the graduation ceremony itself in full battle order (FBO). Gonna load my magazine pouch with red bulls, grenade pouch with some choc to chill me up along the way, lol. . .
This week had been quite relaxing, we'd games day, recruit's & OC's nights. And the amount of admin time that the drill squad had put in was finally paid off when we got first in the competition!
I mentioned before that others had questioned me "why don't I just quit, since it's so tiring la to do drills after all the training." The main reason was that I know that I can't achieve anything else that this drill competition will be my only chance to achieve something and I did! =]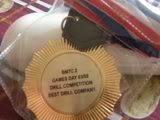 On since its POP soon, the whole platoon turns crazy la, playing pranks here and there, from putting camo cream to shaving cream to toothpaste on people faces in the middle of their sleep! Till now I still had no idea who put toothpaste on my arms in the middle of my sleep, zzz! So now the last man of each bunk will lock the door, close the rear window to prevent intruders, @__@, they even put chairs and bucket of water to block the doorway.. Talk about defense.
How does the whole platoon see me? Some said I'm weird, some said I'm cute, many said I blur. . . my whole section even mimicked the way I replied people with 'Yes, yes' , that now the whole platoon is mimicking la, @__@/
Kai
Takre care
='
桜 & 恋
Hopefully on that day itself, will pass out as a soldier but not pass out in the middle of parade square . . . =/
i feeling confused lol on some feelings lOL. . . starring in the blue sky i gave a thought, am i rushing thing, am i having illusion or just some substitution?
i want to watch WALL-E, anyone?