Chronicle of my life before army~ Part 2 & 3 & 4 &5 &6(now)
This post will get longer-revealing the chronicle of my life b4 army till i went in on the 9th july
Yesterday met up with Hwee min! Embarrass thing happened even before we met la. We were supposed to meet at Doby Ghaut station, but I waited at the purple-line doby instead of the red-line doby. I ought to have know is at the red- line cux she coming down from woodlands and we're suppose to head to city hall. When her msg reached me saying that she'd reached I was like
'Where are you'
'Last cabin side'
As I was at one end, but couldn't see her so I walk to the other end and still can't find her; so I was literally patrolling round the station like 2.5 rounds before I was sure that she wasn't here. I gave her a call and she said
'Are you still at the station where you just got out?'
'Yea'
'Im at the side heading to city hall'
I WAS LIKE TOTALLY OH MY GOD LA. . .ZZZZZZZZZ
Well anyway we still meet. . .
Got our dinner at subway and ta-bao all the way to Esplanade roof-top and mankan! Another embarrass thing happen; I don't know the standard procedure of ordering at subway! There are a few hiccups before I finally had my combination of toast and she was doing it at lightning speed la (a season subway lover, she sure is =]).
AT Esplanade roof-top
The toast!
We were looking for seats to settle down, when she saw this place and jump on it; cross legged and smile (thought that was cute =])
Anyway. . .
While eating; we share about each other thoughts, life and kind of stuffs before the photo taking session!
Some of the photos taken were so weird and funny, that we couldn't help but laugh at ourselves and keep asking questions like "why we look so weird and funny arh?" (and obviously i upload the better one =])
The lighting, the wind breeze, the stars really make it a comfortable environment for the 2 of us to talk =]
Then we decide to left for level one when she said she looking for some water-pond-thing (which I 'd no idea of what it is)
notice the blue-ball thingy? is where the so call water-pond thing is (LOL!)
Then emo-pics
Then stunt-pics; some attempts before she manage to shoot this down (which I love it to bits!)
I tried to do the same for her; but my reaction is just too slow to capture the mid-air post, so it ended up with her giggle-gesture when she landed herself b4 the flash comes. . .LOL
Then we walk down this river and we saw this wall-board like kind of thing with makers attached to it. It supposedly mean to be a national day's message kind of thing but we ended drawing my own crubo (tt furry monster) and her little snail, LOL
Did I forget to mention another thing? Cux my camera had my own recording when I'd my so-call –singing practice- @ home. Somehow, she managed to see and listen to it! Yea this made it to embarrass no.3!
Kai
Takre care
桜 & 恋
=]
All in all, I do enjoy myself, the talks, some of the kuku pics and the company. She 1 of those girls that can make me feels comfortable to speak out and bring out my bubble-side. AIYO, BUT I going army SOON. . . I can't imagine a botak guy arm with his geeky black specs, perhaps some breakout going out on a date! LOL
PIC OF THE DAY (according to her)
was smiling at my sleep; tt i tossed round my bed for like 2hrs before falling asleep! LOL
.
.
.
.
.
.
Chronicle of my life before army~Part 3
04/07
So today I met up with another 1 of the 4 buddies-John! We'd luch at café cartel (luch set meal is always more affordable!) He'd his teriyaki spaghetti while I had some baked fillet with some potato top with some salad (with limited hint of bosanic vinger;LOL)
"I shall have my drink first"
"ready to tuck in no time!"
Then we head down to Esplanade for some free concert; which totally brings someone like me who don't appreciate to sleep la. I was like critic then, saying some 'pro comments' like
'The music doesn't sound full'
'There no coordination between the band and conductor'
I passed buy JL MS, where i met 1 of the KT promoters, and chit chat bout 30mis before we head for the movie. Of course she tried to unravel something from some kapo guy like me , =/
Then we head down to movie "Kung-fu Panda' (finally found someone who hasn't watched it!)
The storyline is pretty simple and cliché kind of thing, but definitely worth the time to watch! The fighting scenes were all awesome! I guess the animation is trying to bring out 1 important theme that is believed in yourselves or the secret lie within yourself!
When all people are desperately looking for short-cut/power as depict by the dragon-scroll; it actually is blank. When the scroll reflect the mirror image of the panda (that he realized there nothing special, but me who is special to make a different!)
Did I forget to mention the Master Wu-gui; he is so cute la! He mentioned this cliché statement 'Yesterday was something, tomorrow is something special, and today is a gift since its present (now)'.
And the Wu-shu finger holds! Simply loves that stance!
Then we headed to for some pepper lunch express before landed ourselves at the usual starbucks and talk about more of future then the usual good old days and philosophical things.
Kai
Takre care
桜 & 恋
=]
.
.
.
.
.
.
Chronicle of my life before army~ Part 4
05/07
So its movie marathon yet again; we headed for Bugis to catch "Hancock"- not about someone name Han with his cock, else it be Han's cock @__@ [that's was what I thought of when Ruben was suggesting for the show,LOL]
The movie itself again is zzzz la.. some funny scenes are worth mentioning like
One the prisoner head was forced into another guy's butt!
Hancock the story itself is about feeling of 'lost' and finding your own identify, about how remorseful it is to be dejected when you meant good.
The irony of the story is about how Hancock's race are supposed to be created to so call save the world; when they're created to be inter-twined/linked together (no matter how far the 2 are, they will still find each other) that when the 2 are together, they lost their power and just like another human out there, age and die. So if you want to live; be as far from your own species as far as possible, so is like a choice between power and togetherness and between love and sacrifice (sacrifice your own by deserting the loved one, that he/she will still have the power to protect themselves)
Man did I get it right?
Anyway. . . dinner was at Sofra (a Turkish restaurant)
(it was really dark, the candle lit up the menu! )
yea right! @__@
MAn i love this!
Pic well done. . .
My 3 gulps finished Turkish tea, zzzz
When the food came, didn't bother to snap them and head straight to dig in! so we were like sharing, you take mine, I take yours, sometime I ka-po yours w/o them knowing and kind of stuff! LOL!
After dinner, group photos!
All like man/woman in black, e only identif-able color are me and peishan (red and grey,LOL)
Thereafter, left 5 of us, wondering round Bugis Street, encircling in circle like vulture below its carcass (hmm my descriptive juice must be overflowing right now), before we finally landed ourselves at this road side dessert store for what else- dessert!
I ordered the traditional paste, walnut! Thinking walnut>almond>sesame>peanut in term of price and all cost the same [i must clarify though, the thoughts come in after i ordered it, LOL!!!!]
The desserts
Kai
Takre care
桜 & 恋
=]
.
.
.
.
.
.

Chronicle of my life before army Part 5

06/07
The 4 NPCC musketeers w/o John turns out today @ Vivo for brunch at Subway (AGAIN??) even though I just had it recently, I still totally had no idea on the SOP (standard operation protocol, according to clins)! I order 1 foot when I wanted 6 inches; thinking 6>1 (cux i wanted a smaller 1, zzzzz); when the guy drag out the 1 foot loaf, I knew tt was not the size I wanted but still too ps to said 'wrong size' so just stick with it!
As expected, I finished about 10inches of loft, leaving the 2 inches behind! @__@
Thereafter, the 3 walk walk and photo taking as usual (whenever there's Lion around)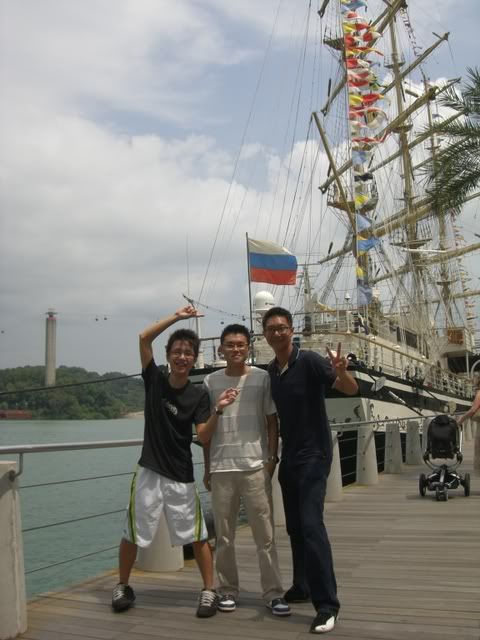 courtesy of LIon's photography skills, gt this pic well done!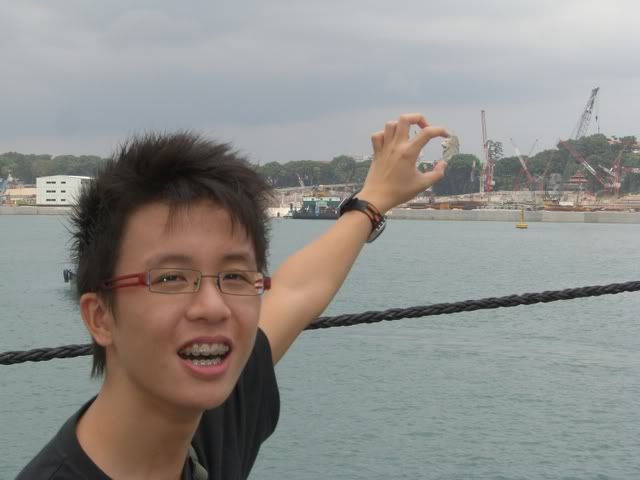 Then it movie time! We catch "wanted' when I thought it was '1/3', when they told me to watch that movie. The movie itself makes your heart tumbling like mad with the action pack and not forgetting the double of A. Jolie show casing her butt (OPS). The plot is about how this ugly duckling becoming a dazzling swan kind of thing. The idea of seeing oneself as God is kind of cliché thing when Sloan comes out with this 'fate-creator-thread-machine' which decide the next to-be assassinated victim. Aiya, all in all there some twist that makes me baffled but its just not my kind of movie, =/
Thereafter, the guys talk about shit lots of stuffs revolving what else-Love life, when Clins asked us for suggestion on date and kind of things (as if we're the pro); but theoretically I may know, to deliver it out I don't know how to, LOl.
Well good time spend with those 2 buddies before army! =]
Kai
Takre care
桜 & 恋
=]
.
.
.
.
.
.
.Chronicle of my life before army Part 6
07/07
Mel and I decided to 'rackey' the lately built-bridge connectors linking Mt.Faber to Henderson Wave to Natural trails to Alexandra Arch to Hortpark but we didn't venture into the Kent Ridge region @__@ oh well. . .
Brunch was at this French restaurant, we'd some Tartins (an open sandwich) with Tiramisu as desserts (I was like Tiramisu at this part of time, some more there's hint of liquor/rum?) well since I haven't had a chance to try it so why not, the first bite was impressive when the liquor sort of like vaporize and exploded in your mouth,boom. Thereafter when your taste bud got used to it, the taste becomes milder and milder before it becomes like another cake with subtle taste. Mel the guru explained 'Dessert is the last part of dish, so it need to bring you down from a climax yea?'
Tiramisu with Eiffel tower beside it
As usual impressed with his guru-ish answer! LOL
Then we head on for the expedition! The grueling walk up & down Mt. Faber was the toughest of the journey, with uneven and steep steps. In the midst was some hidden pavilion where lovers can spend their time there and enjoyed the sunset!! There this lovely church somewhere but we can't locate it, maybe next time I shall track it down with someone else? LOL
Top of Faber
Then down Faber
Continued the journey, we reach Henderson wave with lots of detour (thanks to Mel for he wanted to visit some steam garden and ended up In some muddy pond with only 1 terrapin being spotted!) zzz LOL!
Henderson wave!
REST!
Riding down the waves, we reached the most inter-twined bridges you saw in SG- The something natural trails or stm! I like how it turns and twist before we reached the bottom! Then it started rain la just before we set forth! But was kind of cool experience, the splashing of rain, the strong wind!
Ladies&Gentleman may i present you e something natural trails
seems like an enchanted forest yea?
Then before long we cross the Alexandra Arch and reached Hortpark (some garden) and saw 2 wedding couples taking photos!
Then a bus ride down to Lao-pa-sak and had this Kebab (yes again!); but more economical one! LOL! Was quite good la, just that not enough meat to goes with the rice =/ then down to Esplanade and chill at this luxurious café (cookie museum), the services was like top-notch, when the waitress push a trolley to your side, using a tweezer to take the serviette on your side and the kind of thing. I felt weird at first, as I felt totally out of place in this kind of posh/extravagant place. Mind you, I was sitting in a golden armed chair (according to them). That place was like, you ordered your tea, and sample the cookies available (they even have exotic flavors like ikan billis, laksa!)LOL totally impressed in their art of computing those thing into cookies!.
a total of 200++ photos are taken, and it'll be nuts to upload them all, so i just put bout 1/4 of e pics taken in this sideshow!
kai
takre care
桜 & 恋
='