Ministry of Food, japanese casual restaurant + cafe
So I found a perfect place for Japanese dessert (thx to mel) @ Bugis Junction. They called themselves Ministry Of Food or MOF, probably got their idea from MOS but both are definitely non-related.
Main course wise, I'd this cold seafood ramen. One wouldn't have imagined that mayonnaise could go well with noodles You I was skeptic initially but gave it a try as both the chef and he highly recommended it. It took about 10minutes before the dish was served.
What a humongous shared! [Cold seafood raman]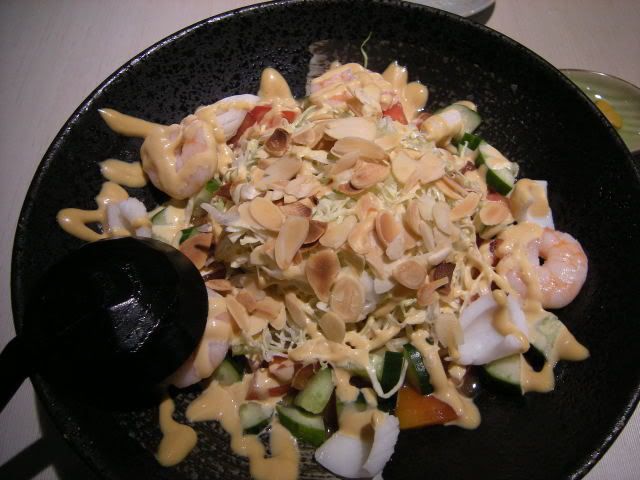 I called it a 2in1 dish as it served both as a starter (salad) as well as main dish (the ramen) with generous amount of mayonnaise + some Jap sauce. I guess if you mixed the dish well enough, you will feel ton of surprises in your mouth, sometime there's crunchy (from the squid, cucumber, and toasted almond), sometime juicy- soft bite from the tomatoes. As for me, I just eat the noodles and the salad separately as I just can't seem to place the noodles and the vegetables on the ladle. @___@ well anyway the presentation is a wow factor and will get you indulge any sooner, but since there generous amount of mayo, one may felt' je-lat' after ¾ way so I suggest this is a dish for 2! =] and it fast, cux a cold dish could 'dish up' some water after awhile.
Look light and simple @____@. If you like mild taste, this for you!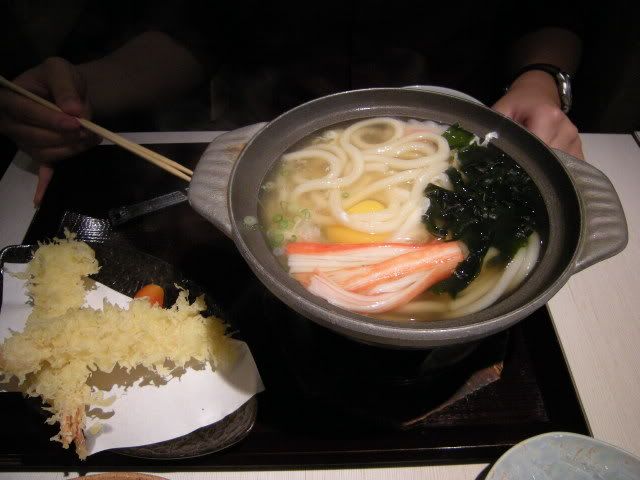 the maguro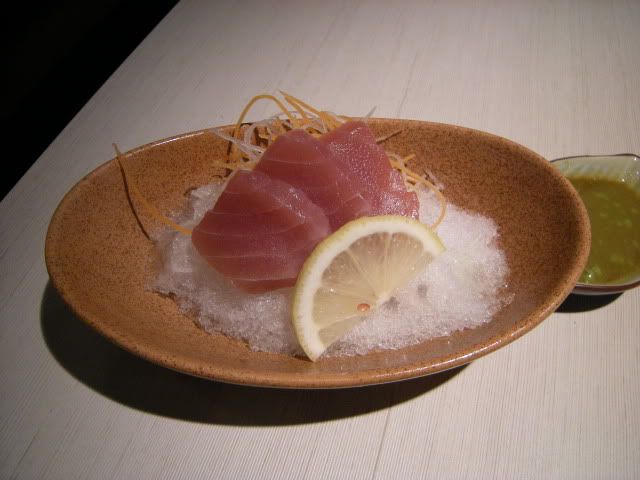 Actually before I even tucked in, I knew it wouldn't be as good as the one I tried back at Waraku, judging by the flesh and all that. He agreed with me too. Its not fatty, not sweet. Bah this dish was a spoiler and waste of $$$, LOL. But hey at least no we know this stall sashimi cannot make it. LOL! So fast come to judgment.
Then came the dessert! Woooooooooooza!
Mocha Zen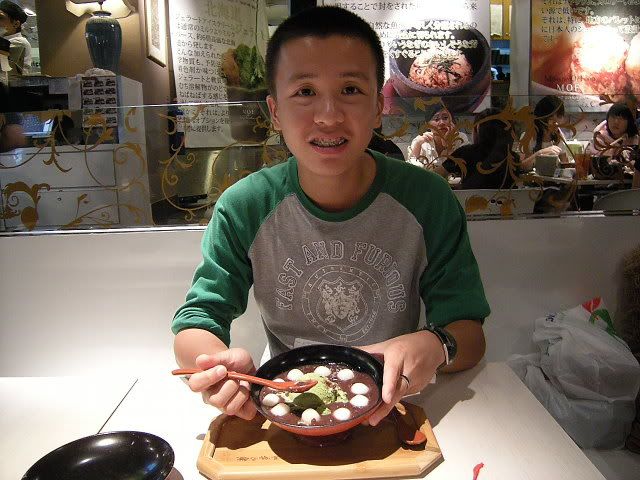 Woot! Ultimate sweetness from the bean paste yet not je-lat. The slight bitterness mocha ice-cream just sought of balance the sweetness, but it's still overwhelming. The flavor just lingered in your mouth! Mouthful after mouthful, I just can't stop! Plus the rice ball, simple it look, but its great even on its own! I guess this dish will be lagi sweeter if shared with your loved one =]
Mel had his Mocha Kurian (I think)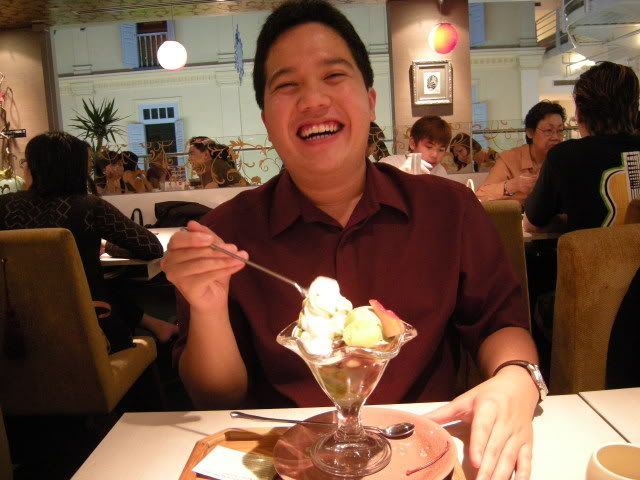 His is like some sundae with some jelly some mix of fruits and bla blla. Looks fanciful; but don't think as good, hahaha @__@
Ebekawa
Then come the ebekawa (some baked mochi in red bean paste, and honey?)
I guess I can't taste anything sweet after that mocha zen, cux its already at its peak, if I hadn't have wash my mouth with green tea! LOL. Hmm the dish wasn't as impressive as it looks but is definitely a 'work of art'.
Takre care
kai
='
桜 & 恋
Labels: mankan